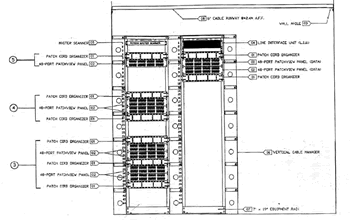 CommWave Networks understands that every client's technology requirements are unique and must be specifically designed to fit your organizations needs. The process usually starts with collaborating with the owner and design team to ensure that the technology system designed will meet your network requirements with the systems being used.
With technology being a commodity for organizations today, a properly designed communications system that can deliver technology with efficiency is extremely critical to ensure high performance and maximize uptime.
Many organizations today have moved to an integrated network design. An integrated network incorporates all your voice, data, video, security and audio applications onto one network. Having an integrated network enables you to use the workstation outlet for any application needed creating a universal outlet. This will give you total flexibility with applications being used at the workstation while significantly cutting down on costly adds, moves and changes.
Our in house RCDD/NTS engineer will design a communications solution that will enable your organization to forge ahead with confidence that you have an optimum communications solution for the optimum price.
Network Design Capabilities
Prepare schematic designs
Define scope of work
Prepare construction schedule
Backbone routes & length limitations
Prepare link loss budgets
Strategic positioning of equipment &
telecom rooms within the facility
Humidity, temperature & flood alarms
Redundant paths for disaster recovery
Grounding & bonding protection
Equipment & telecom room design
Building pathway design
Fiber and copper separation in pathways for
Maximum protection
Assist in bidder's evaluation
Assist in providing testing, inspection & commissioning requirements.