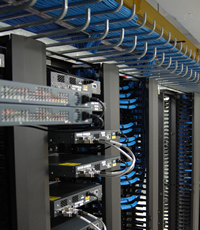 A structured cabling system provides a universal platform upon which all network communications takes place. With a standards based cabling infrastructure, a structured cabling system can support multiple voice, data, video and multimedia systems regardless of their manufacture. Our end to end capabilities allow us to handle projects of varying size and complexity from multi-floor buildings to small office suites.
We have adopted a "Value Engineering" approach to every project to ensure maximum savings is achieved at design and installation levels using approved products. We have our RCDD/NTS engineer design every project to verify all current and future communication requirements are met while adhering to ANSI/EIA/TIA standards.
We work closely with other trades through the duration of the project to assure that schedule requirements and budgets are met. Our services include design, installation, product procurement, and maintenance of your network infrastructure. With our technical alliances, we can support telephone systems, fire & security, multimedia applications, and electrical service.
To be put in left hand column:
Category 5e, 6 & 6a copper cabling
Single mode & Multi mode optical fiber
Copper and Optical fiber splicing
Wireless deployment
CCTV & security cabling
Overhead Paging & life safety
Comprehensive site analysis
Engineered by RCDD/NTS
Conduit, raceway, closet build out
Fire stopping
As-built drawings
End to end labeling
Testing and verification of installed media
Lifetime warranty